//June 27, 2009//
Transformers 2.
Hmm, where should I need to start? Explosion, the creepy Decepticons, Megan Fox, explosion, the great great Optimus Prime, a lot of explosions.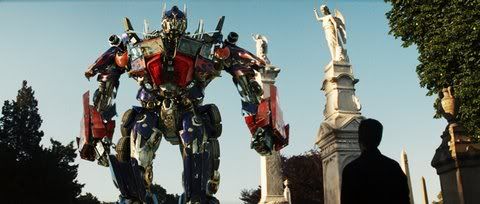 Menonton Transformers 2 sama dengan pengalaman menghancurkan (atau lebih tepatnya meledakkan) BANYAK kaleng rongsok. Transformers 2 mungkin bisa disebut the most anticipated movie di tahun ini. Tetapi tampaknya, kita berharap terlalu banyak.
Untuk penggemar lamanya, menonton seri kartun ini menjadi nyata adalah impian yang telah lama terpendam. Itulah mengapa Transformers menuai kesuksesan. Di sekuelnya ini, Sam Witwicky kembali berperang menyelamatkan bumi bersama Optimus Prime dan geng Autobot lain. Ekspektasi berlebihan mungkin adalah kata yang tepat untuk Transformers 2. People getting bored with a metal who can turn into robot, and then into a car, and into robot again. We've seen it already. No need to bring another (or much more other) metal.
Yah, mungkin itulah perasaan saya. Di Transformers pertama mungkin saya sedikit memaafkan ceritanya yang biasa-biasa saja itu, karena ada bagian hebat lain yaitu disebut animasi dan actionnya. Semua orang pasti terpukau dengan animasinya (yang bahkan berhasil mendapat Oscar itu). Saya aja sampe pengen koprol sehabis nonton film itu sangking serunya. Tapi, tampaknya, Michael Bay mengartikan lain Transformers 2. Mungkin karena menganggap itulah daya tarik terbesarnya (selain Megan Fox tentunya), ia menambah (banyak) Autobot dan lebih banyak action di film ini. Seru memang, tapi membosankan.
Seperti adegan pertarungannya misalnya, kadang Bay membuat banyak slow motion untuk memperjelas beberapa bagian actionnya. Tetapi, kadang kita bahkan tidak tahu siapa yang sedang menghajar siapa, dan apa yang sedang terjadi. Banyaknya karakter baru yang ditambahkan juga membuat saya bingung, sampai akhir filmpun saya gk inget siapa nama-nama Autobot baru itu (kecuali Iron Head mungkin). Yah, setidaknya terima kasih atas trailernya yang 'mengundang' itu. Constructicon (or whatever the name is) memang keren, sesuai harapan yang ada di trailernya. Tapi kok gampang kalahnya? Begitu juga dengan adegan pertarungan Optimus dan The Fallen. Orang-orang tentu menunggu saat2 di mana mereka berdua akan bertemu, tetapi justru adegannya terlampau cepat. Cuma kurang dari 1 menit, The Fallennya udah KO. Tetapi salut buat Optimus Prime sih, luar biasa. Saya langsung jatuh cinta sama karakter ini. I guess people also loves the robots more than the human character (kecuali Megan Fox mungkin) .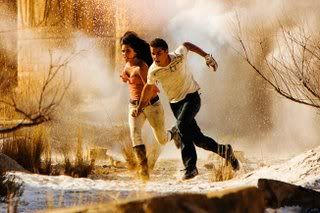 Dan hmm.. Megan Fox. She just turns the movie into Victoria Secret show. Gila ya, kayaknya emang banyak adegan yang disengaja-sengajain supaya si Megan Fox itu lari-lari. Well yeah, she ranked #2 on sexiest woman on Maxim. Ya udahlah ya, no need to worries, boys. Kecuali rumor kalo dia cowok, ya. Sepanjang film, Mangasiterus2an geleng2 kepala sambil ngomong, " Sayang ya, dia cowok." Hiburan terbesar saya justru ada di tokoh Jetfire, dan kedua orang tua Sam. Karakter mereka lebih menarik daripada Sam dan Mikaela yang tampaknya susah sekali mengucapkan kata cinta (eeuwwh, too lame).
Recommended Consensus: Transformers 2, lumayanlah. Another great entertainment popcorn for people who loves explosions and metal crancking sound.